All Products and Services
PIP Lynchburg
1709 Memorial Avenue
Lynchburg, VA 24501-1703
Business Hours
Monday: 8:00 AM - 4:30 PM
Tuesday: 8:00 AM - 4:30 PM
Wednesday: 8:00 AM - 4:30 PM
Thursday: 8:00 AM - 4:30 PM
Friday: 8:00 AM - 4:30 PM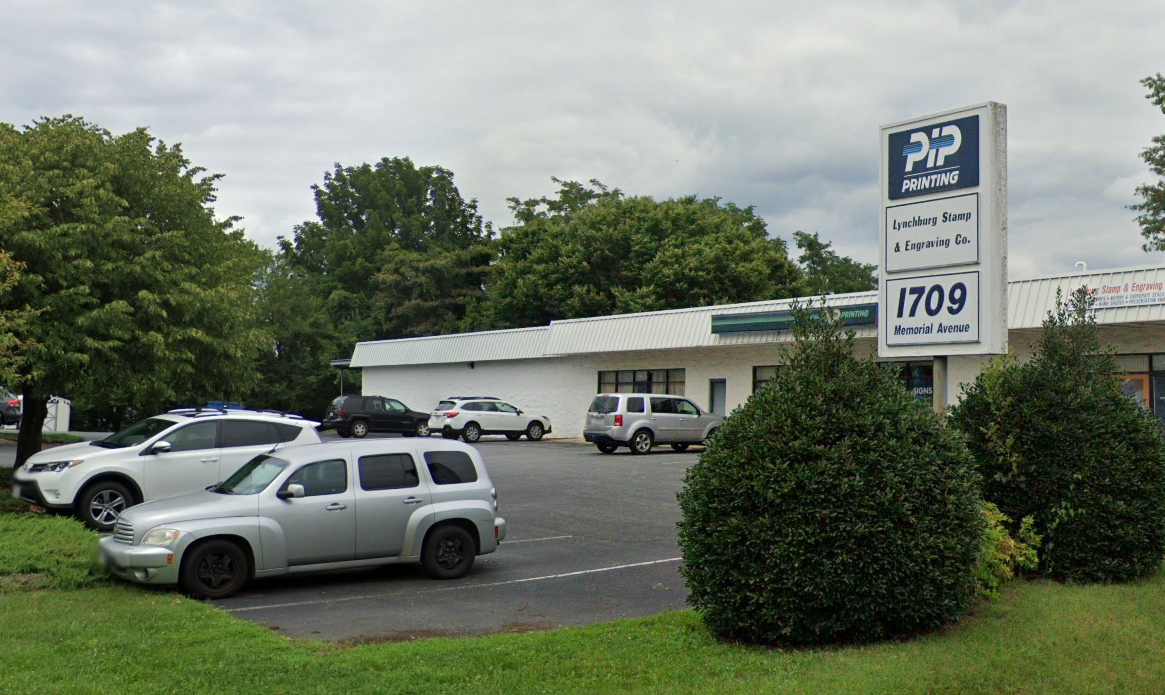 I love working with them! They are fast, professional and very reasonably priced. Often I have to change designs or quantities and they always accommodate our needs. Thanks for being a great partner!
Very fast delivery! I ordered signs on a Monday and they were ready the next day with good quality and price.
Pip Printing did an awesome job with the design and printing of materials I needed for a wedding. Really appreciate the quick turnaround on the project and the high quality of work!
PIP in Lynchburg is the great printer. You can give them a job and they get it done quick. Give them a try. You will love them too.
Used Pip Printing for trifold brochures. Competitive prices included folding. Pleased with the results. Ready when promised. I would use Pip again.
Project was completed quickly, with multiple chances for input and revisions. They also sent examples of the final product via email and had a physical copy available in order to confirm the project was ready to go into production. Excellent customer service. Will be using this company again for our future printing needs!
PIP marketing gained a repeat customer in me when they produced a professional flyer for my business. They walked me through the details and delivered more than I expected. I plan to return for all my marketing needs. It's refreshing to know superior customer service still exists.
PIP has always provided excellent customer service and rapid turnaround time, even when we have had to send jobs at the eleventh hour. We have been extremely satisfied with all the printing jobs they have produced for us and they remain our go-to for posters and program printing.
I am very pleased with the quality of both service and product at PIP in Lynchburg! They carefully worked to make a difficult project turn out very well! They listened to every detail of what needed to be done and followed through with a smile! I would trust future printing needs to them! Thank you Brij for all your help and patience! D Bruce
They were fantastic to work with! Brij and his team responded to a very large printing and binding project in just days and at a very reasonable price. Then they completed last minute increases - and even delivered hours before we expected. Thank you so much for your professionalism and response time!
Wonderful experience! They were very easy to communicate with, project was exactly what I wanted and it was ready within a few days. I highly recommend using PIP for all your printing needs. I will definitely use them again.
PIP Marketing & Printing Service is an excellent business to work with. They were very personable with us, took the time to ensure the products met expectation, were reasonable with pricing, and had excellent communication. The staff was very cooperative with assisting us in identifying exactly what we were looking for and the finished products were FANTASTIC! 10/10 would recommend their services to others!
The printing was of a collection of writings that I wanted printed on high quality paper and bound. It included color images. Everything came out beautiful and It was completed on time. I plan on using PIP for my next project as well. They were friendly and easy to deal with.
I have been using vista print for my printing needs but I decided to give PIP printing a chance and I am SO glad I did! I purchased a small batch of yard signs to test the waters and I can't tell you how impressed I am with the quality and service they provided! The quality of the signs was well beyond my expectations and their customer service was simply amazing! They made me feel like I have been one of their best customers for years! PIP printing has earned my business for years to come and I have come to that decision based on my very first purchase! If you need quality printing and you want to feel like a long time customer, then PIP printing is the last search you will have to make! Well done PIP printing, I'm a customer for life! Thank you for being that kind of a company, it's very refreshing and sorely needed!
Raymond Williams and the PIP team continue to do an excellent job in servicing our printing needs, and they went above and beyond in finding a vendor that could meet our particular needs for an envelope order. They found one which exceeds our expectations.
Jackie is IRREPLACEABLE!!! She is quick to respond, a WEALTH of knowledge, so helpful and WILLING to help. She goes ABOVE and beyond her required duties to make sure that her customers needs are met. THANK YOU JACKIE ! You are a jewel.
I needed a sign - same day and they came thru and it looked great! They were kind and courteous as well! Great job!
We love using PIP! Whether it is for jobs small or large. They helped us with an invitation for a senior event as well as a large, multi-document print job. They are professional, prompt, and helpful!
We worked with PIP on the printing of a simple postcard and the experience was terrific. Their ordering and proofing process is very streamlined and efficient.
PIP Printing did a great job on a few projects I recently worked with them on! They were very responsive, fast, did quality work, & their pricing was competitive. I will definitely use them again and appreciate their excellent customer service.
I used them for my business, T4tactics, LLC. Great design work, customer service and very pleased with the final product.
I had the pleasure last week of receiving the professional business cards I had ordered the week before from PIP Printing. The cards were exactly as we had specified including the correct color on the logo which we had spent a good time several years ago determining what we wanted to be our color. We are grateful for the work that the PIP company did for us and are happy to recommend them to anyone who would like to hear more about our experience. Great thanks!
Pip has been incredible to work with in printing wedding invitation addresses! They have had to turn things around such fast for clients and done an amazing job!!
Our Organization hosts an Annual Golf Tournament as a Fund Raiser. Our forms were old and needed refreshing. From the first meeting with Ashley to working with Jackie, PIP Printing on Memorial Ave. in Lynchburg, Va. did a fantastic job on creating a Flyer and a Brochure for the event. The product looks great, contains all the information needed, and did I say I LOOKS GREAT!! Thanks to PIP Printing, especially Ashley and Jackie for such awesome work. I know where I'll go next time I have a printing need. Richard Burge - Board Member / Boonsboro Volunteer Fire & Rescue
PIP is our GO-TO! We started going to PIP because they're local and we like to do business with local small businesses. We now consider PIP our go-to for all of business card, sign and advertising needs. PIP customer service is OUTSTANDING, they truly go above and beyond to ensure that deadlines are met and that we get a quality product at a reasonable cost.
I have used PIP Printing for many years. They have excellent products, customer service and communication. Highly recommend.
Great experience. It was easy to place my order. I received my order fast.
We absolutely love our ID Badges that were made for us!! PIP always does an incredible job for us on nay job that we give them!!
The PIP Team took a rough draft and created a beautiful document. They were efficient and communicated well!!
Sometimes I skip their efficient online ordering and delivery service because it's always such a pleasure to go into the store! Plus, the work is excellent and they always save me from my own mistakes.
PIP Printing did an amazing job with our invitations, they were also prompt and drove them out to Amherst, thank you PIP. Great Job!
Very fast delivery!!!! Wonderful print job!! I am very happy with my experience with PIP printing!
Fast, efficient, and friendly service! Great turnaround time with orders, and really go above and beyond to make sure you get exactly what you want! Thank you for everything PIP! You're awesome!
I only get copies made here but the employees are always fantastic 👏 always courteous and efficient. Terrific customer service! I will definitely continue to be a return customer and tell everyone I know about this great place and fantastic service! Thank you everyone keep up the great work!
I only get copies made here but the employees are always fantastic 👏 always courtesy and efficient. Terrific customer service! I will definitely continue to be a return customer and tell everyone I know about this great place and fantastic service! Thank you everyone keep up the great work!
If I need it they got it!
Great customer service. Great pricing. And local shop. We get all of our printing done at PIP Printing.
So glad we decided to go to PiP's Marketing after having a bad experience at another business. Really friendly/ helpful people who did exactly what we wanted, really fast too!! Highly recommend since their quality work really surprised us. Thank you from Tacos Locos